It has a shape of honeycomb structure with longitudinal channels. The gas media, transported through these channels, is subjected to needed chemical reaction.
Additional opportunity for proposed catalytic unit, very effective for chemical reaction acceleration, is internal plasma discharge (IPD), realized in each longitudinal channel of the unit. This IPD, realized in each longitudinal channel of honeycomb structure, originates in the contact line along the channel and influences the media of transported gas.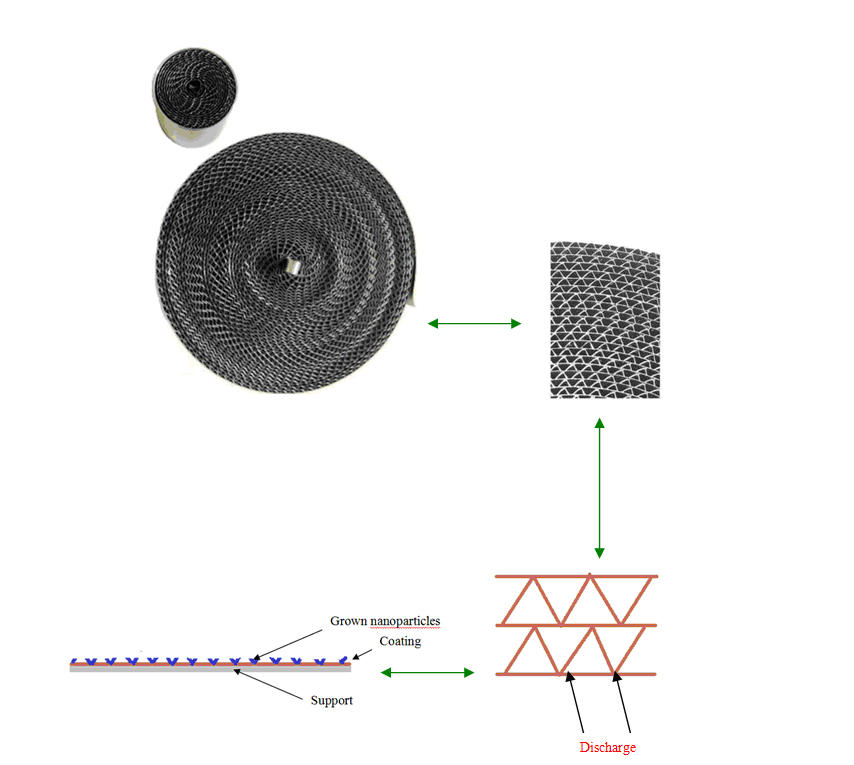 In different gas media IPD provides many specific chemical reactions by ionization of gas species. Combination of IPD with catalytic coating, deposited on the internal surfaces of channels, gives us a unique opportunity in transported gas treatment.
The high voltage low current for IPD generation in catalytic unit is produced by special portable equipment, developed by our company.
Proposed catalytic unit with internal plasma discharge (IPD) can be used for different areas of power engineering, chemical and car industry.
For example, these catalytic components can be used in reforming processes (steam reforming) for effective gas treatment, in different processes of gas refining (mining technology), for exhaust gas treatment in industrial applications (coal gasification) and in automobile catalytic converters.
Also proposed catalytic device with internal plasma discharge (IPD) can be used as the components for very effective and cheap soot trap with zero back pressure development for diesel engine.
Catalytic components (Co, Ni and precious metals) may be introduced into catalytic support on the stage of support preparation or during special hydrothermal treatment, or by usual impregnation procedure.