Research and testing in collaboration between Amiagus Group and safety label manufacturers has led to the development of a unique product that combines protection against any counterfeiting providing the product with the required physical properties at the same time.
The aim of the product is based on the usage of composite, consisting of natural mineral material (carrier), specially selected for the target product and a functional coating. The composite is being mixed with mass of viscosity controlled viscoelastic materials, controlling fraction and the amount of the composite, thereby forming an adhesive with composite filler.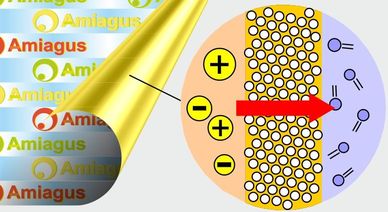 After production process, specially modulated charge is being given to the composite, using special equipment. This charge is necessary for the functionality of functional coating while the natural mineral material acts as a charge accumulator for long – term storage. Even more, unique charge given can be measured using special equipment and this property provides a completely new feature - unique on a global scale security level for the final product.
The final product can be stored and sent to the customer by regular mail that makes it easy to transport even in large amounts. When the label is being placed (sticked) onto package with the liquid (natural water, for example), the unique charge of the composite is transferred to the liquid in a short period of time, homogenous nanocatalysts are being formed, that, in turn, determine formation of certain active catalytic elements in liquids resulting in the formation of the reactive species, needed for the task selected.

If the label is being exposed to be reused (by removing and sticking onto another package), it will be broken because of the security structure of the label, thereby preventing illegal distribution of the product.